Humber City to Showcase at Platform2013 – Hull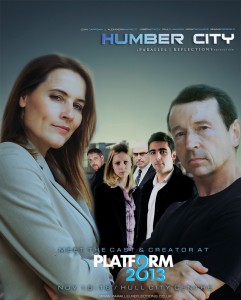 HUMBER CITY TO SHOWCASE AT PLATFORM 2013
Hull based series, Humber City will showcase at the 4th annual Platform Digital Media Expo in Kingston Upon Hull on the 15th and 16th November.
Uniting together for the first time the entire cast of Series Regulars (John Carrigan, J Alexandra Marriott, Joseph Stacey, Paul Flanagan, Kenny Richards & Gemma Deerfield) will be in attendance alongside series creator and executive producer, Peter Goundrill.
Both dates will feature a screening of "Darkest, Before the Dawn" followed by a short Q&A.
The cast are also available to meet and greet at our own booth within the event where we will be selling various pieces of merchandise and more in order to support the production.
Come along and check us out.
For more information on Platform visit: www.platformexpos.com